Quests give Mastery Books too late
There are several quest lines in the game that award Mastery Books (20, 30, or both).
The problem is that most of them do it at a fairly high level. The worst offender is the Ghost Ship quest line, which gives Mastery Book 20, but only becomes available at 150 - ten levels after the character has all their SP and should have all their 4th jobs skills maxed. But the Tynerum quest line that starts at 135 and gives 2 level 20 and 2 level 30 books is also likely to be too late, and the silent crusade awarding a level 20 book at the end of chapter 3, at level 135, as well.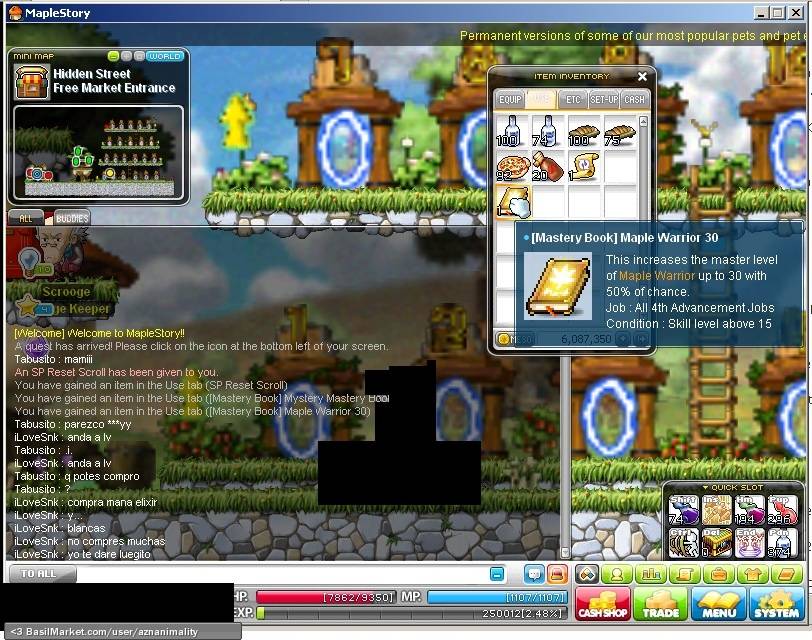 I see two possible solutions to this issue:
1. Change the quest lines to be lower level. For example, move the entire Crimsonheart/Tynerum quest line, or Lion King Castle quest line, to be 10 or 15 levels lower, including lower enemy levels. The boss itself (Gollux or Von Leon) can stay the level it is now. There will just be a gap between when one completes the prequests and when one may fight the boss.
For the Silent Crusade, it can be changed to give the Mastery Book at the end of Chapter 2 (level 119) instead of Chapter 3 (135).
2. Change the quest lines to award something else.
Mastery books can be obtained for ms mesos, Silent Crusade coins, or Evolving World coins. Most characters do not wait for the quest lines to give them the books, but rather buy them using one of the above methods. By the time a quest gives the book, it's wasted (especially since some of them give untradeable books). Better to replace it with something else.
If, for example, the Ghost Ship quest gave a Special Potential Scroll (100%) instead of the Mastery Book 20 it currently gives, it would be far more useful and save many people from destroying their new Ghost Ship Exorcist Badge for lack of a suitable potential scroll.
Especially in Reboot, non-destructive potential scrolls are difficult to come by and in very high demand. Having the Tynerum quest line award two of them (instead of 4 mastery books), that could be used on Gollux Rings or Earrings (that cannot be replaced if destroyed), would be a very welcome change.