My 5th job suggestion submission for Buccaneer
First, I would like to suggest that 5th job, if it may come, be a branched job advancement for explorers to choose between 2 or 3 mastery jobs. And second, my suggestions for two 5th job buccaneer branches would be a Time Lord and Spirit Master.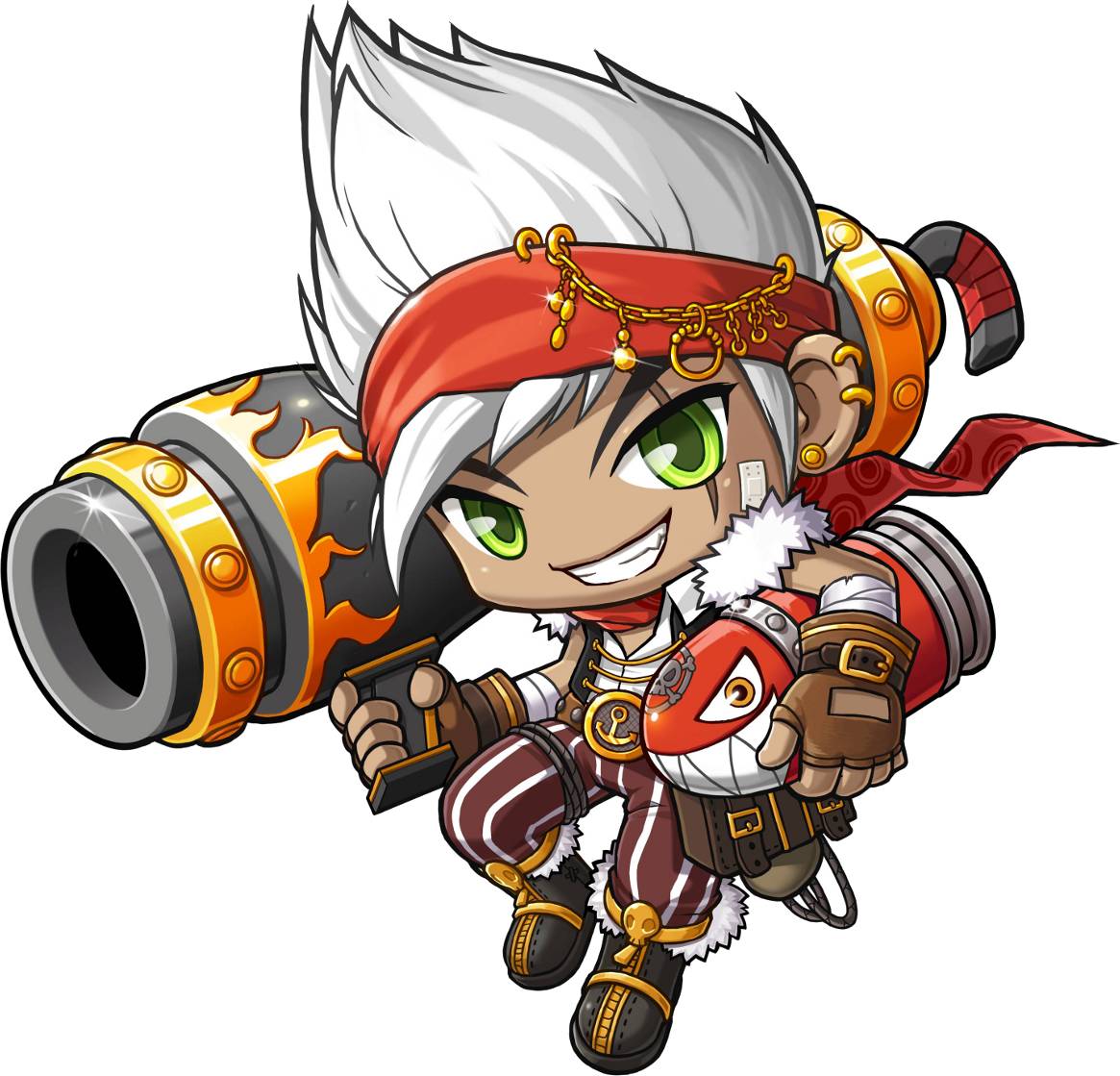 Time Lord Description: Has several time-based skills. Apart from Spirit Master, who has mastered the ability of Super Transformation, has mastered the ability to control time and has abandoned energy charging. Some of his abilities include:
[Tetra Booster] (passive buff) Attack Speed cap removal and a 3rd Weapon Booster that boosts weapon attack Speed by 2 (stacks with both Knuckle Booster and Speed Infusion for a total of +4 attack speed, that is, if the formula is (1 booster * 2 (speed infusion) + (2 speed from this skill). Requires maxed Knuckle Booster and Speed Infusion. Also converts Dash into a passive speed increasing skill.
[Time Warp] (active support): slows down time or temporarily stops timers in maps. This would be great for lesser-funded classes if the time limit is the only thing stopping them from beating bosses. If a timer is present, for 8 seconds, the timer is stopped all monsters in the map are bound, and has a cooldown of 45 seconds that can be reset using Time Leap. If no timer is present, time is slowed and all monster's movement, attack speed, and skill cast time, is reduced to a certain amount for 20 seconds (also has cooldown of 45 seconds).
[Advanced Time Leap] (Active Attack/Active Support): When used, if a (boss) timer is present, the timer will automatically be decreased by 8 seconds but deals 1500% damage 15 times. Can only be used on bosses and only when bosses are present. If a timer is present, can not be used if timer has less than 30 seconds remaining. Elite monsters and Elite Bosses count. Resets cooldown for all skills including hyper skills for other party members (but not your own). Replaces Time Leap and has a cooldown of 140 seconds. Cooldown is decreased by 2 seconds every time you or a party member attacks.
[Super Lucky Dice] (passive buff): If snake eyes (double down 1s) is casted, gains all non-double down buffs from 2 to 6 (7, if the Double Down- Addition Hyper has been applied). If a 1 is rolled, whether by itself or another number, has a 30% chance to automatically re-roll for another number one time. Cooldown of Roll of The Dice decreased to 120 seconds.
[Flux] (Active Support): Speeds up spawn rate and monster speed for 40 seconds. Cooldown of 60 seconds applied.
[Null Charge]: Energy Charge is no longer relevant and no longer receives passives from Energy Charge, Super Charge, or Ultra Charge. 1 SP already added upon job advancement. Instead, all Charge-Required skills are permanently changed to Charged Versions of the skill. Octopunch permanently deals 360% damage 10 times and renamed to Decapunch, +85% skill damage to double blast, and +120% skill damage to all other charge skills excluding octopunch. Spiral Assault is changed to a teleport skill that deals 337% damage 4 times. Can be used vertically.
[Quake] Punch the ground to cause a miniature earth quake, dealing 720% damage to monsters on land 4 times.
[Stop-Motion-Punch] hold down the skill to throw a series of high speed punches. Damage shown is delayed by 3 seconds (as a graphical effect that would look as if your attacks were faster than time itself), but damage applied is real-time. Deals 200% damage 14 times every 1/8ths of a second to 1 enemy. Reduces movement speed to 100 when using this skill.
Spirit Master Description: Has several fatal attacks. Apart from Time Lords, who has mastered the ability to control time, has mastered the art of Super Transformation, allowing himself to become 1 with his own spirit.
[Quantum Punch] If energy is uncharged, can hold down skill for 2 seconds to charge 1000 energy. Let go of key to attack at full strength of 400% damage 14 times to 2 enemies. If not charging skill, does 380% damage 9 times to 1 enemy. Consumes 45 MP. If energy is fully charged, consumes 300 energy and attacks with 400% damage 12 times to 2 enemies. [Passive Effect- Brawler Stance:] Thrust back your arms as if you are about to throw a punch. Decreases all cast animation speeds by 1/3 of original cast time.
[Mega Charge] Charges 400 energy while attacking. When charge is activated, Attack +60, Movement Speed + 50, Weapon and Magic Defense + 800. Energy consumed is decreased by 1/3rd.
[Super Transformation] When fully charged, become one with your spirit to transform into a blue god-like being. While Transformed, Damage is increased by 30%, jump cap increased by 10, jump + 10, Movement speed cap increased by +30, Movement Speed Increased by +30. Reflects 30% damage if touched and Absorbs 30% damage from magic and HP % attacks.
[Fissure] Punch the ground to shake the earth, dealing 3000% damage to monsters on land 2 times. Cooldown of 120 seconds. Damage cap for this skill is increased to 250m.
[Grapple] Creates an anchor out of pure energy. Hold the skill down to spin the anchor in a helicopter fashion, swinging towards monsters in 360 degrees. Pulls monsters towards you while dealing 500% damage 8 times. 200 energy consumed per second. Can only be used when energy has been fully charged. A weaker version can also be used uncharged. Creates a small grappling hook out of pure energy. Hold the skill down to spin the hook in a helicopter fashion, swinging towards monsters in 360 degrees. Pulls monsters towards you while dealing 300% damage 8 times. Cool down of 8 seconds when this version is used.
[Counter] Use at the right moment to guard and counter an attack. Damage intake when used successfully: 0% Deals 300% damage 4 times + 1 extra hit with each successful counter up to 6 times. Applies a buff that reduces damage by 10% and can be stacked up to 6 times. If used after 6 times, buff duration refreshes. Does not stack with other damage reduction skills.
[Omega Punch] Punch an enemy faster than the speed of sound to cause a sonic boom. Deals 1200% damage to 1 monster. Has 100% to create a sonic boom if successful. Sonic Boom attacks 11 enemies in a cone-shaped AoE dealing 700% damage 3 time(s). Damage Cap for this skill is increased to 200m. [graphical effect:] Monsters are tossed backwards while spinning.
[Tase] has 35% chance to stun bosses. Stun Duration: 8 seconds. Note: Bosses are not actually stunned. This is just so that Stun Mastery (+60% critical rate to stunned monsters) can take effect on bosses.
Spirit Bomb: Allows attacks from party members to fill 100 energy per attack. Max Energy increased to 20,000. When Energy is completely maxed, unleashes a powerful spirit energy that deals 800% damage to 15 enemies 12 times. Used automatically.