MapleStory Dawn Warriors Attacking
Eh, as someone who's spent large amounts of time with these two classes (Mained Aran before Reboot since their release, and since have mained Dawn Warrior on Reboot), Aran makes use of more than just swing when training. While bossing you'll probably just spam swing+beyonder or final blow + beyonder but when you're training you have leeway to use Aran's wide variety of skills that retain great utility well into higher levels. Perhaps the inputs seem too easy to me after using Aran for a long time, but I don't feel that they're that complicated. Regardless, once you've learned them, training becomes pretty varied, at your own will at least.
Meanwhile Dawn Warriors don't have quite as much variety later on. That's why I'm debating switching back to Aran right now, because training is really just spamming one skill over and over again (while being frustrated by Equinox Time's unresponsiveness). The Dawn Warrior's Equinox Time Skill makes it so that you constantly switch between two skills while fighting based on what stance buff you have active, they are indeed a class to consider if you want variation. They get two attacking skills (without long cooldowns) at 4th job. Moon Dancer/Speeding Sunset and Crescent Divide/Solar Pierce. Moon Dancer/Speeding Sunset is only really used for 1v1 scenarios, because it is a single target skill. Crescent Divide/Solar Pierce is used for mobbing, and occasionally bossing, but there's not much overlap between the two skills' uses, but you see the alternating animations so to some it can feel like having four skills.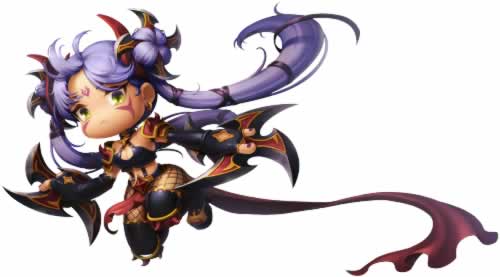 As a Dawn Warrior training you pretty much just spam their mobbing skill, alternating between the two stances. When bossing you use the other skill and do the same. It doesn't get much more varied than that, so they don't really compare to Aran. Dawn Warrior just might seem super varied on the outside but once you play it through 4th job for a while the alternating stances will begin to feel like one skill and it won't be very interesting. The falling swords attack that incapacitates enemies is cool but has a sizable cooldown. Their hyper skill is pretty cool but the cooldown is like 30 seconds as well.
Occasionally if I get REALLY bored I'll use my other previous skills since they have small amounts of utility as a rush type attack or a pulling attack but that's pretty much it.
Aran simply has vastly more variety.
Edit: As Xenomata mentioned earlier, Thunder Breakers also have some variation, since they have a cool system that allows you link any of their attacks.
Granted, Thunder Breaker training for me has essentially boiled down to spamming Thunderbolt -> Annihilate over and over with the occasional flash to reach new enemies or the gale to grab the buff and what not, so I don't think they're as varied as Aran.
Actually, even Dawn Warriors get to alternate between stances with their two separate attacking skills depending on the occasion... Thunder Breakers just mixup between their three attacking skills all the time.