Ideas for maplestory
1. You need actual things to do in the game on top of that. Just making it take longer to level up doesn't get people "hooked on training". That's what made people quit en masse pre-Big Bang was having not only a horrible EXP curve, but having nothing to do during all of that. If you nerf EXP gain, you have to give a reason to justify it through other means in the game.
2. There's plenty of areas to train, and that's actually one of the problems the game has. There are far too many areas to be at all the time, and that makes players stick to one location. Just grinding is just grinding - players want more than that. If they can't have more than just grinding then they will always default to the map that has the most efficient EXP gain and/or is more convenient to get to. This is why people have always spent their time in single locations throughout their level ranges. The game needs more linearity, actually, with any alternative content that exists needing to have incentives you can't get in the first location. Example: Area A gives certain equipment, Area B gives the items that upgrade it. Anything. If your alternatives are simply "another area to gain EXP" then it'll die off. Always happened and will always happen if that continues. At the moment there are too many areas than the developers *and* players even know what to do with.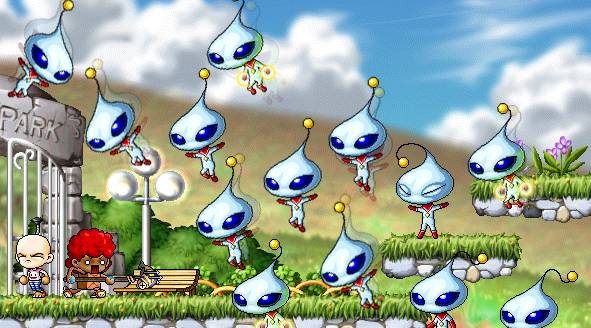 Back when locations like Aliens (which still exist, as does LHC and SDH) were pre-nerfed, people never trained outside of those locations if they were in that range due to the absolutely ridiculous amount of EXP they gave over all other locations. I don't think you have a good grasp of how these things work to be honest, considering you say these will get people to go to other places, but you clearly don't understand that it would just perpetuate the issue you're trying to solve. Yeah, it'll get BillyBobXXX to stop training at -insert hotspot here-, but only because he'll migrate to Aliens, and then stay there for 30 levels, never accepting any EXP lower than that.`
10. Something I'll put here, but only because I agree so strongly, not disagree like 1 and 2. The game has more servers than it actually needs. Note to any company: don't create servers just for a stupid content update. Servers should be created because of necessity. At the game's current population, I'd say there should be 2, *maybe* 3 normal servers, and then Reboot. If servers are consistently filled, *then* you consider adding new ones. More servers at lower populations only serve to keep population low, with new players that join being split off from each other on a regular basis. When you don't actually need this many servers, it just costs you more resources to operate them all when you don't even have to. Inefficient.
Seeing emptiness on the regular lowers player morale. When morale is low, players quit. Simple as that. Constantly encountering not a single person while you progress through the game is extremely depressing. I can tough it out since I'm a solo player for the most part, but many players can't stomach that.
Also, actually merge the server tabs as well. If you merge servers together, it should be a single tab - a single option. Keeping the other tabs just looks messy. Example: If you merge Bera and Windia, don't keep those tabs on the select page, create a new, singular one instead. There, now you have Berindia server.